Welcome to My Balplan Microscope Site
---
Welcome to my Microscope page on the World Wide Web! I'm glad you stopped by. You'll find some facts about me and my interests here. I've also included links to some of my favorite microscope sites. Feel free to browse around, and enjoy your visit!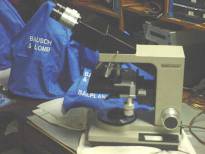 My Balplan Bright Field microscope


You will find links to other interesting microscope web sites here.



Check out some pictures taken through my microscope.


Balplan Microscope Maintenance

Information on maintaining your microscope.


Find information on some other interests and projects: clocks, deer ticks, and minilathe.


---
Last Modified: