* GadgetBuilder.com *
Finger Plate
Last Modified: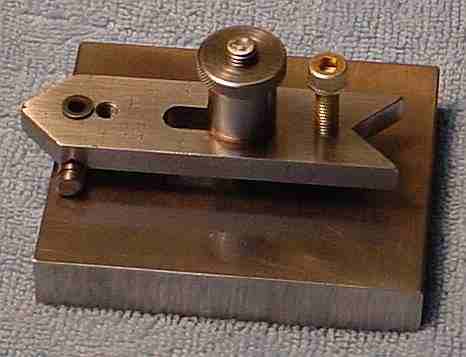 A finger plate is helpful for work holding, especially when using the drill press. It is also useful when filing small items, much like a machinist clamp. Finger plates are personal items, incorporating features which appeal to the builder and reflecting the tasks he typically tackles. Since tasks change over time, finger plates are often customized to accommodate tasks not envisioned during initial construction.

Finger plate design is arbitrary according to the owner's needs but to allow use with a drill press the size chosen must allow the chuck to clear the central threaded rod and nut. The finger plate shown is 2.5x3 inches to ensure sufficient clearance. The base is 1/2" thick with a central hole threaded 1/4-28 to accept the threaded rod.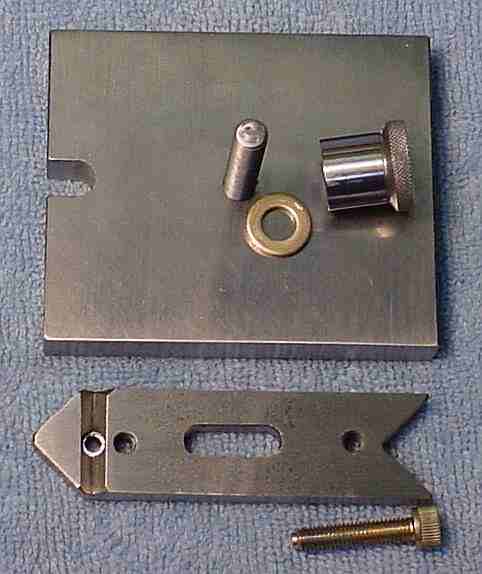 The finger clamp shown is 3x3/4x1/4 and is pointed on one end, split on the other to facilitate clamping and drilling tasks. To aid in cross drilling, the finger has a "V" slot across the pointed end and a hardened bushing from 1/4" drill rod is press fit central to that "V"; the bushing has a 0.128" through hole to pass a center drill with a 1/8 shank. The finger clamp has a threaded hole on each end to hold a screw to simplify setting the finger level for clamping, necessary to allow using the cross drilling aid. This 10-32 adjusting screw was end drilled and a short brass piece was pressed in to minimize marking of the base plate from tightening the screw.
Easily made from scrap, my finger plate earns its keep by simplifying cross drilling - other clamping tasks are a bonus that makes using the drill press safer.

If you have a comment on this site or its contents, click here scroll down and click again.